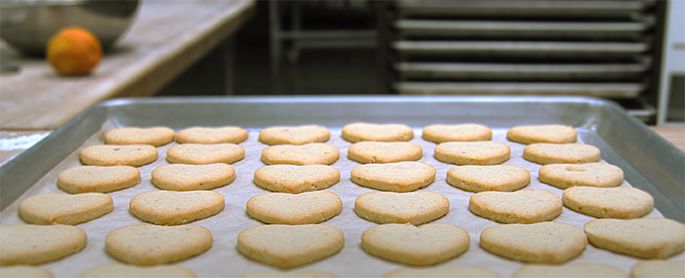 Our Story
Fernanda and Angelo Capraro were childhood friends from the village of Sant Elia in the south of Italy to grandmothers who baked for love and honor. Cookies were a mainstay in their homes, always on hand to be enjoyed over conversation and coffee or wine with family and friends. Their cookies were so delicious that when a young man in the village popped "the question" to his beloved, the next question was what would Nonna bake for the wedding.
Fernanda and Angelo took their love for cookies to California in the 1970s, where they started a family of their own and opened a series of Italian delis and the much loved Villa Romana restaurant in Laguna Beach.
During each holiday season, the Capraros followed in family tradition and baked batch upon batch of homemade Italian cookies for friends, family and favorite customers using recipes handed down for generations. They have been known to bring suitcases full of cookies to family weddings by popular request.
In 2005, Cookies Con Amore was born when Fernanda and Angelo decided to devote themselves to what they love best: cookies. "Who can resist cookie?" asks Fernanda, who is the lead baker. The company has grown to more than 45 employees, but all orders are still baked with love and in small batches at the company's 33,000 square foot bakery in San Marcos, California.
Cookies con Amore are sold at Whole Foods and many gourmet grocery stores in the U.S. You can also order directly from the Cookies con Amore online shop where the entire line of classic, gluten-free, sugar-free as well as seasonal cookies are available.
Cookies Con Amore is a true labor of love. We believe that you have to put your heart into your food and we don't hold back in any way. We're Italian, after all.
---
Our Values
Quality ingredients
We source the highest quality, all natural ingredients for our cookies, including organic butter, free range eggs and premium grade extracts.
Homemade and fresh
Our cookies are baked to taste as if your Italian grandmother just baked them. When we taste test, we ask ourselves, "Does this flavor evoke memories of Nonna and Italy?" Our cookies have been known to bring tears to the eyes of our customers.
Sharing sweetness
We have been sharing cookies with the special people in our life ever since we can remember. Whether we are celebrating a wedding, gossiping over coffee or sharing encouragement in a difficult time, something sweet always comes of cookies enjoyed together.
Small batches
Practicing small production methods allows us the opportunity to taste our cookies again and again and fine tune the flavor.
Honest flavor
Our traditionally Italian palate favors subtlety and focuses on an essential flavor. We believe that if you are eating a lemon cookie, the flavor should unfold delicately. You should be able to taste fresh lemon, a hint of sweetness and nothing inessential.
Baking with love
We grew up feeling the love that our mothers and grandmothers baked into their cookies. How could we not love cookies? We make our cookies with the same measure of love. It's sheer pleasure to share Cookies Con Amore with our customers.