Easter (Pasqua in Italian) is one of the biggest holidays in Italy. It is a time to celebrate spring, sweetness and light. After weeks of Lent, when many Italians abstain from meat and dessert, Easter Sunday arrives in a burst of color and flavor. The day is spent eating, drinking and enjoying the arrival of spring with family. Italians also take Monday off for Pasquetta ("Little Easter") which is a day for picnics with friends and more celebration.
To help you celebrate, we have put together several assortments of classic Italian Easter cookies (regular and gluten-free). We're also delighted to share some of our favorite Easter traditions and recipes with you.
Easter Eggs
Eggs are a traditional symbol of Easter and spring. In Italy, children are given chocolate eggs with surprise gifts inside. We engaged in some serious negotiations with our siblings over who would get which chocolate egg.
Natural dyed eggs make a classic centerpiece at the Easter table. The practice of dying and decorating hard-boiled eggs for Easter began in Italy. In the old days, people used natural dyes made from food in the pantry. Some common dyes are:
beets for red
turmeric for yellow
red cabbage for purple
tea for brown
spinach for green
blueberry for blue
Rather than using artificial food coloring, try decorating your Easter eggs the old fashioned way. Here's a simple recipe for natural dyed Easter eggs that describes the process. Be sure to use white eggs and when you've finished with the dyes, rub the shells with a bit of butter to give them a shine.
Mangia!
On Easter Sunday, Italians celebrate with a feast that stretches from brunch through dinnertime. Back when we were children in Monte Cassino, the eating began with an egg and fresh herb scramble after church. Then we grazed all day long on antipasti and chocolate while the lamb was braising.
The table would be laid out with fresh flowers and seasonal vegetables: artichokes, asparagus, chard, green beans, lettuce, etc. Of course there was plenty of wine and laughter. After Easter dinner, everyone took a promenade through the village. A few hours later we all would be eating again.
Easter falls late this year. Since winter has been so harsh and long for many in North America, we thought it would be nice to celebrate Spring and Easter with a picnic, Pasquetta-style. Here's a simple menu that we've put together with love.
The starter: Young Pecorino, Fava Bean Salad and Salumi
Your local Italian grocer should have some good imported Italian cheese and salumi. We like pecorino for spring, because it has a light, sharp flavor. Fava beans will be in season. This simple recipe combines fava beans with lemon, mint and escarole for a light antipasti.
Main course: Easter Fritatta with a Spring Salad
Fritatta makes a perfect picnic item. It's hearty, full of flavor and just as good at room temperature as when it is served hot. We like the look of this spinach potato fritatta paired with Luigi Carnacania's Spring Salad, which features seasonal spring vegetables: asparagus, green beans and artichoke hearts.
Dessert: Lemon Ricotta Cassata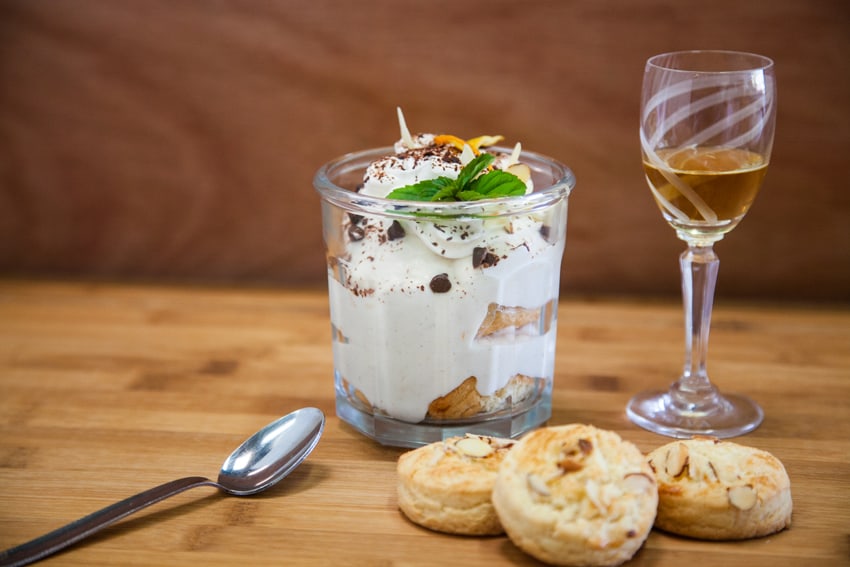 Lemon is a keynote flavor of spring. Cassata is a traditional sweet from Sicily. It consists of cake that is moistened with liqueur and layered with ricotta. In our adaption, the "cake" is made from our lemon nonna cookies (which are available in regular or gluten-free) and we build individual Cassata towers in mason jars.
Cassata towers
Place a single layer of cake in the bottom of 4 glass mason jars, and spread with 1 ½ tablespoon of filling mixture. Repeat to create 3 or 4 layers, leaving ½ inch from the rim. Wrap in plastic and refrigerate for at least 4 hours. Overnight is best. The next day, unwrap jar. Using two strong spatulas, top with whipped cream mixture and decorate, if desired with shaved chocolate, fresh berry or sliced almonds.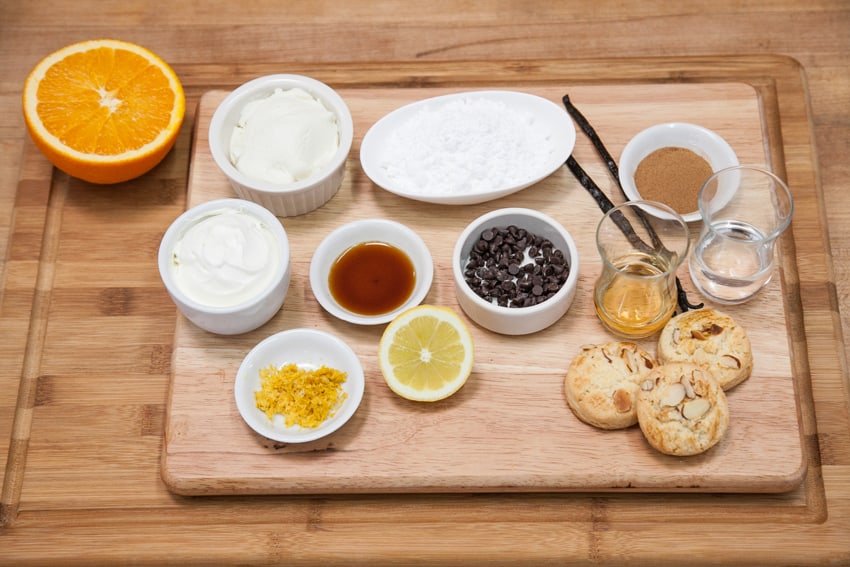 Cake:
Ingredients:
Preparation:
Choose your favorite Nonna cookies, slice them horizontally into 2 layers. Next, combine the rum (or Marsala) with the water. Use a pastry brush to brush the cookies slice on each side with the liquor mixture.
Filling:
Ingredients:
30 ounces whole-milk ricotta
2-1/4 cups powdered sugar
1 teaspoon ground cinnamon
1 teaspoon vanilla
6 ounces semi-sweet mini chocolate chips
Zest of 2 lemons
Preparation:
Combine filling ingredients, except chips and lemon zest, with an electric mixer. Once smooth (it won't totally be smooth due to the natural texture of the ricotta) hand stir in the chips and zest. Cover and refrigerate. You could refrigerate the filling overnight, if needed.
Frosting
Ingredients:
2 cups heavy whipping cream
1/3 cup powdered sugar
1 tablespoon rum or Marsala
Preparation:
Whip the cream, powdered sugar and liquor until firm peaks are formed.