Each month here on the Cookies con Amore blog we will be dedicating one of our cookies to a region of Italy. It's an opportunity for you to learn a bit about the Italian culture that is baked into each of our cookies—whether they are gluten-free, sugar-free or classico.
The Linzer
One of our best loved gluten-free cookies is the Raspberry Linzer. It's made with almond flour giving it a rich, nutty taste. We sandwich two cookies together with a tangy berry jam that complements the sweetness of the dough.
The Linzer is also known as the Occhi di Bue (eye of the bull) because the top cookie in the sandwich is traditionally made with a cutout circle in the center. The jelly that is revealed looks rather like a big eye. In our version, we put a cutout of a heart at the center. We love to start our day with the Linzer and a cappuccino because this cookie says, "I love you! Take heart!" It reminds us that no matter what comes our way, love is always there, too.

The Piedmont
Most of the berries in Italy come from the Piedmont region, at the foot of the Alps. It's home to FIAT motorworks and is one of the great winegrowing regions of Italy. The Piedmont is ruggedly beautiful and a major tourist destination with an array of charming towns, medieval castles and beautiful lakes.
Turin is its capital and a hotbed for the Slow Food movement. The Terra Madre network of small-scale food producers committed to producing quality food in a responsible, sustainable way holds a biennial conference in Turin.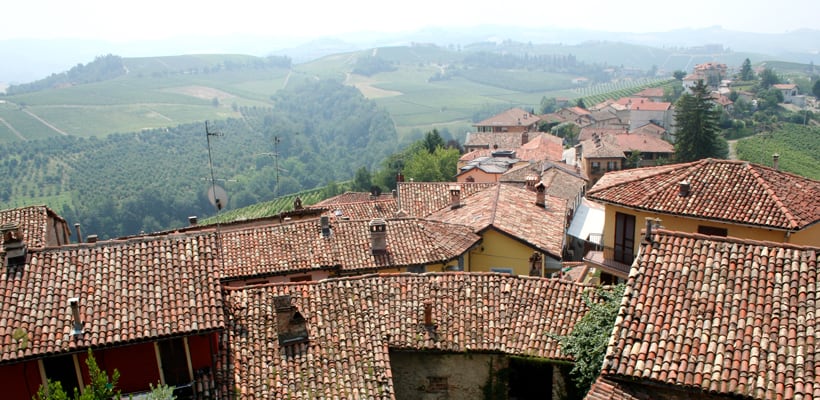 Slow Food
We are big fans of the Slow Food movement, which began in Italy in 1986. Americans are increasingly familiar with Slow Food thanks to Michael Pollan's book, The Omnivore's Dilemma, Eric Schlosser's writing and the grand dame of California cuisine, Alice Waters.
Promoted as an alternative to fast food and strives to preserve traditional and regional cuisine, Slow Food is about small-scale production, celebration of local cuisine and promotion of traditional food products. It is also about loving your food and expressing love through food. And that's baked into everything we make.
Our cookies are handmade in small batches and shipped the same day so that when the box arrives at your door, they will taste as fresh as if your Italian grandmother made them just for you.
We source the highest quality, all natural ingredients include organic butter, free range eggs and premium grade extracts because we won't want anyone we love to have anything but the best. Our traditionally Italian palate favors subtlety and focuses on an essential flavor. We believe that when you bite into one of our Linzers, you should be able to taste almonds, a tang of raspberry and nothing inessential.
But most importantly, we make our Linzers with the same measure of love that our grandmothers baked into their cookies. And that makes them excellent gifts. Order a box of our Raspberry Linzer gluten-free cookies for someone you love and show them your heart.